This post is a summary of the differences the species of Erotylus from histrio group present.
Introduction
Erotylus is a genus of Erotylidae pleasing fungus beetles with around 100 described species. In 1907-08 Paul Kuhnt divided them in groups according to some characteristics. This post is about the first group, The histrio-group, which his words are "Large species with squat-like, blunt elevation somewhat behind the middle of the elytra; Elytra more or less pointed towards the back. Usually a red spot on the shoulder and a point on the tip, as well as a round yellow spot next to the scutellum (often connected to each other)."
There are 8 species in this group:
Erotylus histrio, E. mirabilis, E. elegans, E. histrionicus, E. chevrolati, E. aegrotus, E. clarosignatus and E. permutatus
Kuhnt created a key with the main differences to which I adapt and illustrate below:
A. Area around the scutellum remains black; 6 yellow bands running from the edge up to the hump
…………………………. E. mirabilis.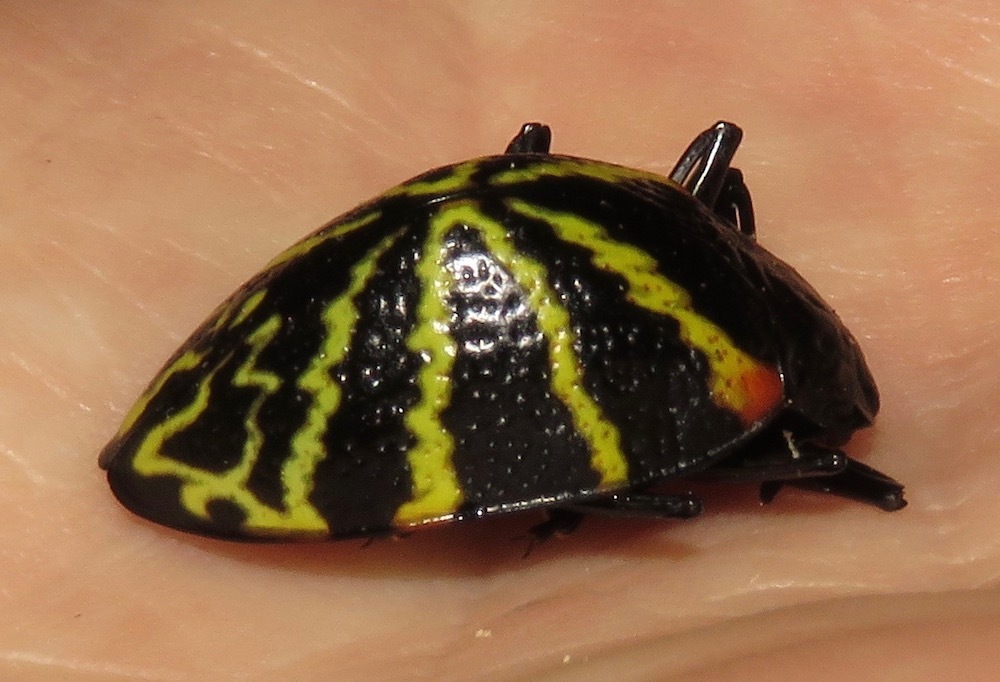 B. One yellow spot next to the scutellum (sometimes combined with the yellow bands/spots behind)



a) Numerous small black indented points on the yellow drawings. (Continuation of the punctuation series)




1. About 24mm. Black network on the front and back.

………… E. histrio

2. About 21 mm, narrower, black network only at the back. (first yellow band connects the 2 scutellum spots and occupies most of the frontal part of the elytra)

…....…… E. elegans




b) Fine double-row dots without black dots. (dots of punctuation in yellow are colored yellow)

1. Broad shape. Large yellow patches of markers.

…….… E. histrionicus

2. Elongated shape, smaller, always isolated patches of markers.

..….. E. chevrolati




c) Coarse punctuation of the elytra.

1. Elytra brown with yellowish marks in a brown smeared network.

….. E. aegrotus